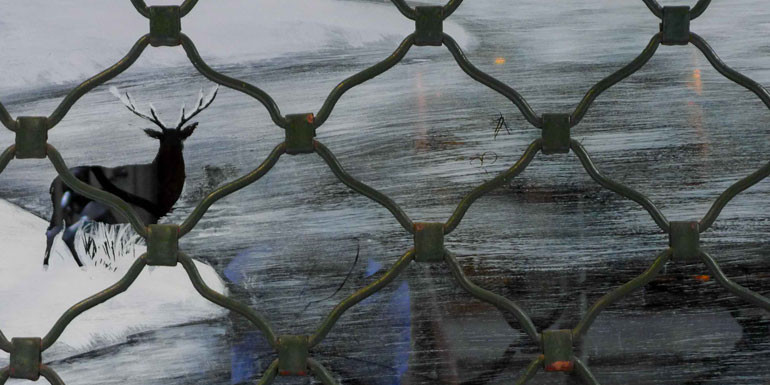 Japón, featuring images from an album of photographs taken by Facundo de Zuviría, and curated by Francisco Medail. 


Japón is not some mere travel journal of a trip through this East Asian country. Although there is a handful of photographs that were taken in other cities, most were shot in Buenos Aires. Facundo de Zuviría walks the streets of this city, stopping to peer into dark corners, his penetrating gaze wringing meaning from the everyday vignettes we brush past every day but fail to see. But there is something in these pictures which distinguishes them from his earlier work, as much because of their duality, for these are not individual pictures but diptychs fashioned by Paula Serrat based on Facundo's photographs, as because of what they represent. Or rather, because of what these forty diptychs build as a narrative about this city.
Japón is a fictional account but no less real for this. It is every bit as real as Estampas porteñas, those photos where Facundo portrays a Buenos Aires in transition during the '80s and '90s. Influenced by the great Horacio Coppola, these images shed light on the vestiges of a modernity that Coppola masterfully illuminated in all their glory. Japón, on the other hand, is very much the product of a contemporary Buenos Aires, an overlay of traditions, histories and communities. As both Graciela Silvestri and Adrián Gorelik point out, there is a disruptive flicker in the classicism of these photographs of urban landscapes that blend and fragment scenes at the same time. In Japón, bridal gowns pose alongside slinky animal print dresses; the strokes of wall graffiti mimic the bars on the windows of shops that have closed for business, where dusty mannequins stare vacantly into the distance. Architecture is reduced to details, and nature glows in the rays of the midday sun. Japón is about reindeer, spiders and birds: flowers, statuettes and table football. There are barber shops, sauna parlors, pawnshops and private palaces. Japón frames photographs within photographs, such as the arrangement of faded wigs in the sunny window of a hairdressing salon. Or a portrait of an Oriental woman lying on the ground, or that iconic image of the Mothers of the Plaza de Mayo which is often used as a poster on street corners, today as visually impactful and challenging as ever, despite its age. 
Japón is also Tokyo and Montevideo, and Japan itself. There are only two images that belie where the photos were taken, suggesting the route that Facundo took as he meandered through the city streets. Where is Japan in Buenos Aires? Japan is a far-off land you can reach on the subway, or watch from the windows of a bus as you cling to the strap handles during rush hour. Japón is urban life as it is today, every inch a reality. And in this solid reality, it also becomes a fiction. 
Francisco Medail
Curator